Floristry Class schedule 2008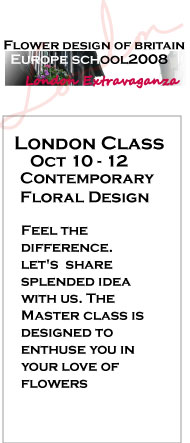 Flower Design of Britain
The school was founded in 1949 by Rona and Stanley Coleman as a floristry school. It was taken over by Barbara Shakespeare and Geoffrey Hughes 15 years ago. Flower Design of Britain runs various floristry courses from basic courses to master classes. The school is located in Weston-super-Mare, England, also 2 locations in Thailand.

Floristry courses
Flower arranging, commercial floristry master classes or design classes leading to master classes. FDB offers different level of courses to flower arrangers who enjoy flower arranging or Master classes for professional floral designers. Our floristry courses are carefully designed to meet requirements of students. Numbers in each class are limited, ensuring enough individual attention and help for everyone by our floristry experts. Classes are available from 2-days weekend floristry art and craft to 6 weeks long term class for all aspects of floristry. Please let us help you to choose suitable courses for your career.



Our students
Our floristry training programmes are offered for students who aim to become florists or floral designers, equally exciting for flower arrangers who wish to further their knowledge and skills in floral art. If you find floristry as your career, come and join our intensive courses of Flower Design of the Great Britain.


Flowers of the classes
Unlike many other flower schools, we pride ourselves at any time to stock and use over 100 varieties and species of flowers and foliages. Our students are encouraged to vary and use as many variety forms of flowers and foliages, thus widening their experience of flowers.