FLOWER DESIGN OF BRITAIN 2013 INTERNATIONAL SCHOOL
Contemporary floral design master class 2013

30th October - 2nd November, 2013
Main flower studio, Weston-super-Mare
Course fee £680

3rd November, 2013
Outing for beautiful Somerset area
fee approximately £75 (depending on numbers)

Flower design of Britain put on its European school lead designers Geoffrey Hughes and Barbara Shakespeare will welcome students at their studio in the seaside town of Weston-super-Mare. We have been conducting this hands-on course for florists, refreshers, or someone who enjoy creative floral designs. The school 2013 will focus on up to date design and trend products.
Barbara will innovatively dedicate a day of practical foliage techniques, showing students how to use leaves in different designs, maximizing their value. She will introduce new products from the range of major manufacturers. Geoffrey will show students modern structure, how to develop them alongside flowers in a very European way. Wedding Day Delights will be our finale.

There will be the opportunity if students wish to visit the Somerset area, Cheddar, Axbridge, Wells after school . We will also arrange a Somerset fish and chip evening and a curry night.

Day 1 - 30th of October 9:15 - 16:00
Designer Geoffrey Hughes, M.F.
Construction and balance within a suspended frame. Design in contemporary frame making in association with balance and flower innovation within. Rolled connected design. The idea is to stimulate your imagination and your approach to a different concept.

*Please bring a hand stapler minimum gauge 26/6 size 6mm

Day 2 - 31st of October 9:15 - 16:00
Designer Barbara Shakespeare, N.D.S.F F.S.F. M.F.
Modern floral design using only foliage. Emphasizing the use of valuable textures with in a transparent container . Textures and containers to create interesting concepts surrounding leaves.

Day 3 - 1st of November 9:15 - 16:00
Designer Hazel Lines N.D.S.F F.S.F
Modern and contemporary hand tides up to date thinking. Much from the contemporary commercial field.

Day 4 - 2nd of November
Designer Geoffrey Hughes, M.F. and Designer Barbara Shakespeare, N.D.S.F F.S.F. M.F.
Floral design with new products from the market place. A touch of difference with feathers. Geoffrey will introduce range of exotic feathers and the elements surrounding their design. Surprise-surprise by Barbara Shakespeare!

Europe class session from 2012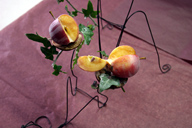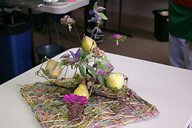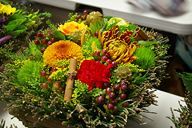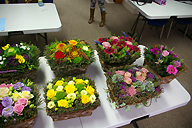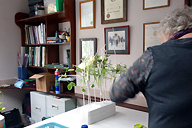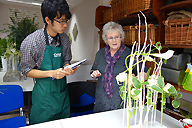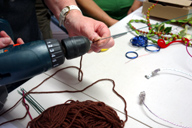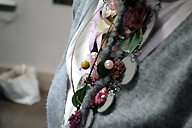 2012 class
Our students will know that our teaching pattern is hands on and quite intensive. This sends the students away with the satisfaction of being able to work and deliver designs for themselves.
Entry to the course
This course caters for students who would like to challenge something new in the industry and are aiming to obtain further knowledge of the latest floristry techniques. It doesn't matter if you are a professional or not, but requires some knowledge of floristry. We welcome everybody who has great passions for flowers!
Entry form